What is the one thing you wish people knew about juice that some might not know?
What kind of work goes into preparing your juices and how long does it take to create a juice?
wHAT ARE YOUR juicing MUST-HAVES?
How did you come up with the name Juice Budz?

TELL US ABOUT YOUR BUSINESS.
The cold-pressed process uses no heat. We extract the juice with tons of pressure, never damaging the good stuff (nutrients, vitamins, enzymes). Comparing that to a conventional juice at a juice bar, they typically use a juicer with a blade that generates heat when pressing the produce through it. That heat then begins to kill all of the beneficial items that the produce contains. That's why you'll notice the color change on those juices and they don't taste good longer than a few minutes. Ours stay fresh and tasty for a few days. ​

We love that each market has a variety of vendors that range from farmers, food/JUICE ;), to arts and crafts. Yet, all of them are unique. ​

We recently revised our menu down to 8 juices with a few nut milks in the works.
The majority of people like the sweeter, more palate friendly tastes so they go with Froot. Froot is made of Orange, Apple, Pineapple and Carrot (being the root in the name).​

Marco – Carrot Boom
Ephraim – Greenlands
Anthony – Kapple​

To the people that have juiced in their homes, we're sure they can agree that it's not the most pleasant clean up. There's a lot of work that goes into preparing our produce. Once we receive it, we prep and wash all of the produce in an anti-microbial solution. From there, we weigh out our recipes to begin the juicing process. We take pride in our recipes, therefore we measure out our juices to the ounce to make sure they taste the way they should. To answer your question of how long it takes to create a juice, it's a little tough to break it down but it does take a few hours to create a batch of juices for the day.
Some must haves of ours are Kale, Apple, Spinach and Carrot. Not necessarily together, but those are some of our favorite ingredients.
We started our business just close to 1 year ago. We noticed within our friends and family that they weren't getting their proper nutrition and a lot of it had to do with them not liking vegetables. We started experimenting with juicing to see if that would get them to consume better nutrition and it worked. That's when we decided that this would be great for everyone to do. We created some really good tasting juices with great beneficial fruits and vegetables.

There are 3 of us that started this business. We have been friends since elementary school, hence the name "Budz". "Budz" is also a reference to taste buds, but we added the "z" to change it up.
We are a cold-pressed juice business that focuses on creating delicious tasting, yet healthy, recipes and getting them out to the people of LA.
Hey Raw Inspiration, our day is going great!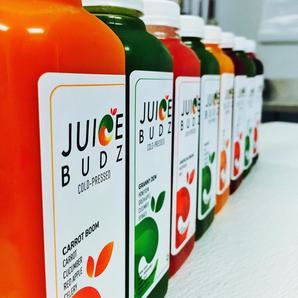 You guys make your juice with a cold-press process... What is that and is that better than regular fresh juice?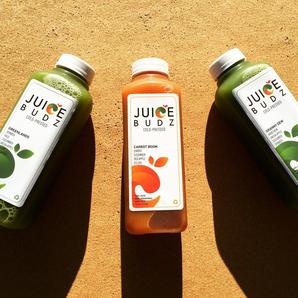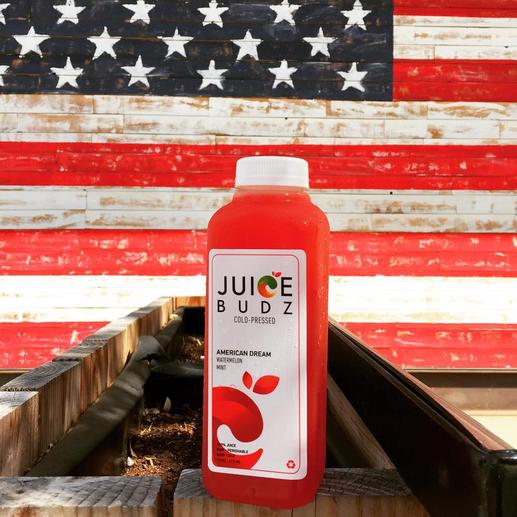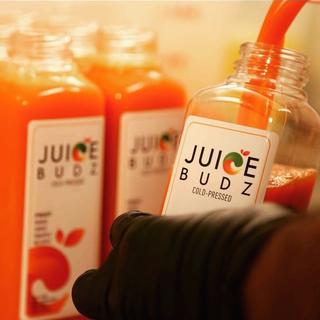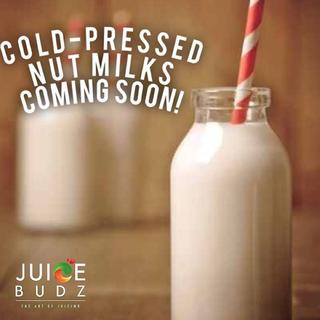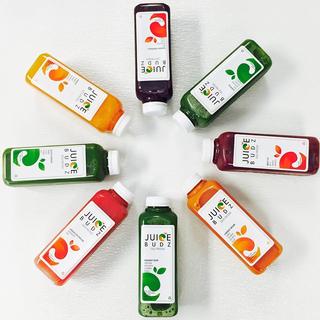 WHEN DID YOU START YOUR BUSINESS/WHY?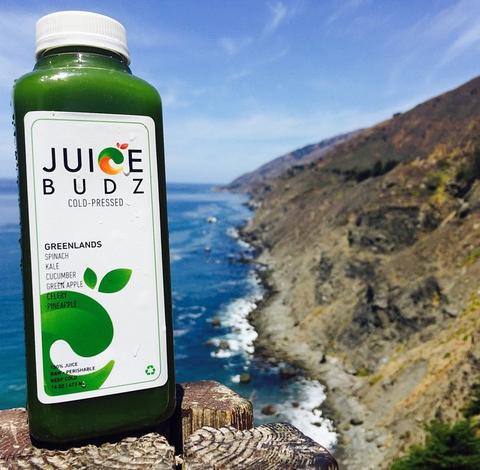 ​

Hi Juice Budz! How're you doing today?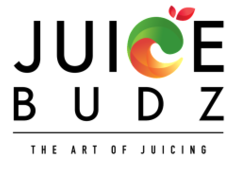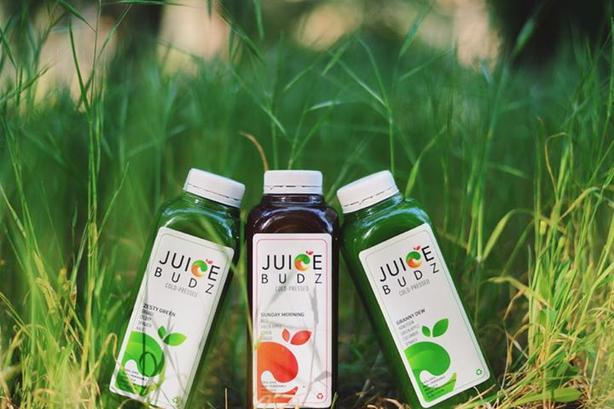 We each have our hobbies and side interests. We enjoy biking, setting up basketball games with friends, creating music and the occasional night out in the town.
Besides your business, what else do you enjoy doing?
Our commissary is usually fun. We like to talk to each other, tell jokes and just have a good time while juicing. We don't lose focus on what we're doing, we just have a good time doing so.
What's your workplace like? Does it need to be quite, loud, music playing or anything specific?
We want to cater to all of the different taste buds out there. We make our recipes for green lovers, to those that are more fruit lovers.
How do you come up with the recipes and different combinations of fruits and vegetables?

To plan out your business to the best of your capabilities, so you can have some kind of guide along the way.
We would advise others to keep working towards the initial goal. There will be unforeseen obstacles that you will have to overcome, but if you keep working towards that goal, you will sail right by those difficult times.
What's the best piece of advice you've gotten along the way in building your business? What advice would you have for others?
If you could start your business over, would you do anything different?
What do you love the most about our Farmer's Markets?
How long have you been in our Farmers' Markets and which ones?!
About how many products are currently on your menu?
What is your most popular juice?
What's your personal favorite of your offerings?
Cold-pressed juice is 100% juice. Unlike other "juices" made from concentrate or juices that have water added to them, our cold-pressed juices have NOTHING else in them but the ingredients on the label. We extract every drop possible from our produce without sacrificing its vitamins, nutrients or enzymes.